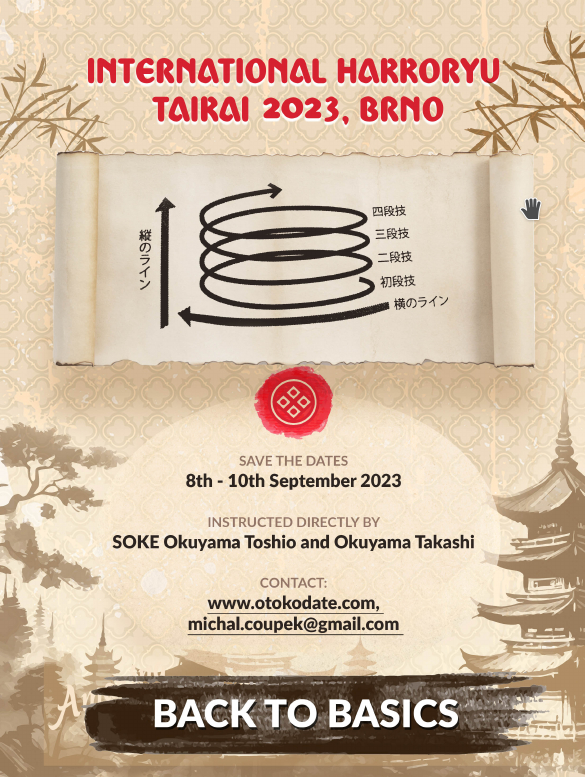 Dear Hakkoryu enthusiasts,
We are thrilled to bring you news of our highly anticipated event - the unique HAKKORYU Jujutsu seminar is taking place in less than a month! We would like to extend our warmest invitation and hope you will receive this unexpected information with excitement. Despite the approaching date, we believe this invitation to an event filled with passion and learning will be warmly embraced. We look forward to your presence as we come together to create an unforgettable experience filled with HAKKORYU and the sharing of knowledge.
Mark your calendars for the dates 8th to 10th September 2023 and prepare yourself for an extraordinary training experience! Soke OKUYAMA TOSHIO and his son OKUYAMA TAKASHI are eager to meet you and personally guide you through techniques in the highest quality, just as they are practiced at Honbu Dojo. This is an unparalleled opportunity that we have lovingly prepared to offer you the very best of HAKKORYU Jujutsu.
Please note that the focus of this seminar will be on the techniques from Shodan, Nidan, Sandan, and Yondan levels, and on their pure execution in the highest quality under the supervision of the most qualified teachers. This is a rare chance to learn from the masters of HAKKORYU Jujutsu and improve your skills and understanding of this amazing art. On Saturday, the seminar will be open to other styles as well, and Soke will demonstrate the applications of the techniques, show a sample of Koho Shiatsu Igaku, and introduce Goshin Taiso. This will be a great opportunity to see the versatility and depth of HAKKORYU Jujutsu and to learn from its successor and his son.
Limited spots are available, so don't hesitate and register as soon as possible. You can register directly on email michal.coupek@gmail.com . On our website www.otokodate.com , you will find news and additional details about the program.
To finalize your registration, please follow these steps:
The seminar fee is 550 Euro per person. You can pay by bank transfer to our account number, which is below this text. Please enter the details as shown and include your full name and email address as a reference. This will help us to identify your payment and avoid any confusion or misunderstanding. You can also pay on the spot, but we prefer that you pay in advance, because we have already paid for the plane tickets and other expenses for the teachers.

Send us an email to michal.coupek@gmail.com to confirm that you have paid and to provide us with some identification details. Please include the following information in your email: your full name, the name of the person who made the payment (if different), the date and amount of the payment, the bank account number or the transaction ID of the payment, and the email address that you used to register for the event. This will help us to assign your payment to your registration and send you a confirmation email.

Wait for our confirmation email that will verify your payment and registration. It may also include some additional information about the seminar, such as the program, the equipment and so on.
Please complete these steps as soon as possible to secure your spot for the event. If you have any questions or problems with the payment, please contact us immediately. We appreciate your cooperation and your prompt response.
The COVID-19 safety measures and the vaccination or testing requirements are currently not mandatory in our country.
The Japanese visitors will be staying at the Grandezza Hotel in the center of Brno. This is a great accommodation, there were still some free rooms available, but it may not suit everyone's budget. Below, we have listed some accommodation options that we have checked and found to be available at the moment. You can choose any of these options according to your preference and budget, or you can look for other alternatives on booking.com. Please note that the availability and the prices may change, so we recommend that you book your accommodation as soon as possible. If you need any assistance or advice, please feel free to contact us.
For Friday evening, we have planned a special event - a cozy dinner with drinks in the center of Brno at a restaurant with Czech cuisine. You can enjoy a buffet-style meal with the option of ordering more food separately. The price will be specified later, but you can expect it to be around 30 Euro. This is also a great opportunity to see each other and have fun in an informal setting after a long covid period. The only dress code for the event is whatever you like, as long as you wear a wide smile and a good mood. We don't care what you wear, we just care that you have fun and enjoy yourself. This is a friendly and relaxed event, so don't worry about being formal or fancy. Just be yourself and have a blast! We are sure that you will enjoy this event and make some new friends along the way. If you are interested, please let us know.
As a bonus for the Taikai participants, we have a special offer for you: you can join two extra training sessions on Thursday 7.9.2023 and Monday 11.9.2023, from 20:00 to 22:00, at the Tesla hall, Halasovo náměstí 7, Brno. These sessions will be led by Nidai Soke and Takashi Okuyama, who will share their expertise and insights with you. And the best part is: you can join these extra sessions for free, as they are included in the price of the Taikai. This is a gift as we want you to have the most rewarding and enjoyable experience possible. This is great opportunity to learn from the masters of HAKKORYU Jujutsu and to practice with them in person, so don't hesitate and sign up now!
Thank you for your support and openness to new experiences. We are looking forward to meeting you at this exceptional event, where we will find inspiration and joy together.
Should you have any questions or need further information, please do not hesitate to contact us.
With great anticipation and excitement in our hearts, we look forward to meeting you!
Respectfully Yours,
Michal
You can pay by bank transfer to our account name and number:
RESPECT IT ALL s.r.o.
Jana Přibíka 1
190 00 Praha 9
IBAN CZ70 2700 0000 0013 6966 2009
UNICREDIT BANK CZECH REPUBLIC AND SLOVAKIA, a.s.
SWIFT: BACXCZPP
FEE: SHA (SEPA credit transfer - each party pays fee to their bank – domestic fees to payer, foreign fees to payee)
SEPA payment (in EU is cheaper)
AMOUNT 550 EURO
We would like to offer you some tips for your accommodation in Brno City.
During September, Brno is still full of tourists and it is more difficult to find a good place to stay.
So please don't hesitate to ask us if you need our help.

----------------------------------------------------------------------------------------------
If you're looking for cheaper accomodation, we have got reservation of hotel rooms in this nice Penzion. We can offer you 2 x Triple rooms and 4 x Double rooms. Price about 35 EUR per night and person. Parking included. If you ask for breakfast + 140,-CZK /cca 6 EUR/. Please let us know, if you are interested.
In this hotel we have got reservation for 4x double or twin bedded and 2x 3 bedded room, price is about 35 EUR per night and person.
In this hotel Grandezza Soke and his son Takashi will accommodate. It is the best hotel in Brno with great atmosphere, right in the city center.
https://www.grandezzahotel.com/
Another hotel which we could recommend is Marriot Courtyard quit near to city center. 4stars modern hotel.
https://www.marriott.com/en-us/hotels/brqcy-courtyard-brno/overview/?scid=f2ae0541-1279-4f24-b197-a979c79310b0
This hotel Vaka is also nice and design hotel Noem Arch is its neighbor. Also close to the city center.